Seventeen Podravka's products received this year's award by the International Quality and Taste Institute for supreme quality and taste of products which was awarded at the ceremony in Brussells. This is an additional recognition to the excellence of taste and confirmation of quality, independent of product category.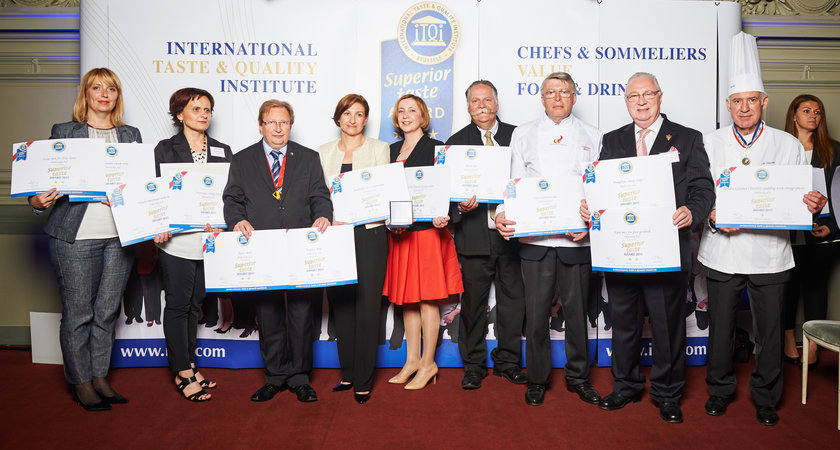 This prestigious award was given to: Podravka tea lemon-lime, Studena, Podravkaajvar mild and hot, Podravka liver pate, Lino Vafelada duo, Fant seasoning mix for stews, Fant mix for goulash from the oven, Podravka cream of pumpkin soup with sunflower seeds, Vegeta Asia, Fant seasoning mix for stuffed peppers from the oven, Podravka cream of mushroom soup, Podravka cream of asparagus soup, Vegeta marinade with beer, Dolcela Gourmet vanilla pudding with strawberry pieces, Dolcela Gourmet chocolate pudding with orange rind pieces and Lino cocoa instant drink.
Once again Podravka's products proved their excellent taste in the category in which they were competing, and returned from Brusselles with 17 Superior Taste Awards.
Products are evaluated by the expert jury consisting of 120 renowned European chefs and sommeliers, from 15 culinary institutions.
Products are evaluated by the expert jury using blind test methods, where the particular emphasis is given to the evaluation of taste, aroma, texture and product appearance.
"We are proud because the recognitions by this leading world organisation for awarding quality have been received by our products for many years in a row. This year's awards are an additional confirmation to the recognizability of the quality of Podravka's brands in international market. We are particularly happy that this year the awards for product excellence, quality and taste were given to the highest number of our products so far, which is definitely the best encouragement for further advancement and innovation" – Podravka Management Board member Olivija Jakupec said.
So far Podravka has won as much as 50 Superior Taste Awards, which are the result of consumer understanding and long-year culinary expertise built into the development of every Podravka product.
Awards won prove once again that Podravka products belong to the world food elite.