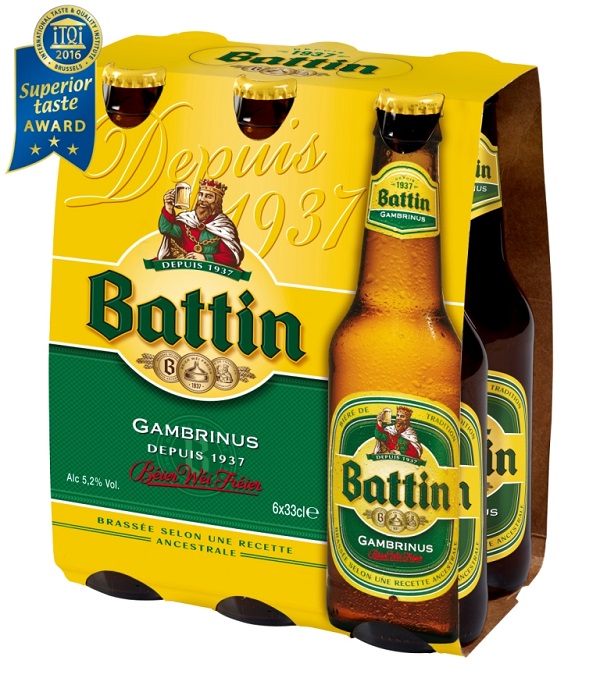 Recognised for its unquestionable quality among lovers of good beer, Battin Gambrinus, flagship of the range of the Luxembourg brand, has been awarded the "Superior Taste Award" in Brussels by receiving the maximum rating of 3 gold stars.
The "Superior Taste Award" is the only taste quality label awarded by the taste opinion leaders which include starred Chefs and Sommeliers. The ITQi Jury members, from 17 different countries, are from the most prestigious European culinary associations including the Master Chefs of France, the Culinary Academy of France, the Academy of Culinary Arts, Euro-Toques, the Federazione Italiana Cuochi, the Nordic Chefs Association, Verband der Köche Deutschlands, as well as the International Sommelier Association (ASI).
As for the Michelin gourmet guide, iTQi certifies products for their gustatory merits. Only products that obtain a minimum rating 70% receive an "award" with one, two or three gold stars:
- 1 gold star: Global rating between 70 and 80%: good taste,
- 2 gold stars: Global rating between 80 and 90%: excellent taste,
- 3 gold stars: Global rating equal or greater than 90%: exceptional taste,
During testing, each beer is subject to blind individual assessment by a rigorous sensory analysis. Each test product is the subject of a sensory analysis report for which specific criteria (olfactory, visual, gustatory, etc.) are carefully evaluated by each member of the jury.
The Gambrinus Battin, a subtle hoppy lager brewed with respect for tradition (slow fermentation process), won over the jury with its exquisite sweetness of malt and slight bitterness.